Easytemp TSM187
Modular RTD thermometer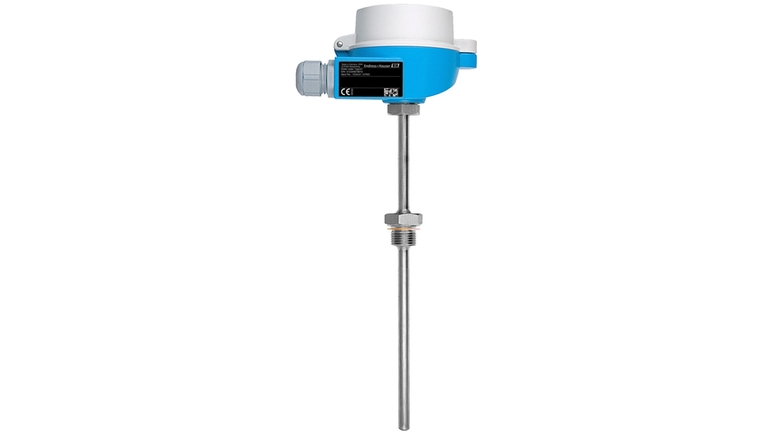 Comprehensive and common temperature measurement technology for almost all branches of industry
The thermometer is mainly used in the chemical industry but also finds its use in other branches. Preferred applications are vessels and pipes where stability and short response times are required. The device with head transmitter is a complete unit ready for use with enhanced measurement accuracy and reliability compared to directly wired sensors. A variety of dimensions offers flexible application possibilities.
Quick selection
Choose from our suggested options
Individual configuration
Continue your selection from all possible options
Benefits

High degree of flexibility thanks to modular design with standard terminal heads as per DIN EN 50446 and customer-specific immersion lengths

High degree of insert compatibility and design as per DIN 43772

Extension neck to protect the head transmitter...
Field of application

The TSM187 compact thermometer range covers a wide variety of market needs worldwide. Typical application can be found in the chemical and pharmaceutical industry, food, water and waste water and power plants. Preferred applications are in vessels or in...
Documents / Manuals / Software
Accessories / Spare parts
Term.block DIN B (42mm) 4 term. 5 pc

Spare part set for TMT181/187/188/182

(4 screws, 6 springs, 10 spring rings)

Insert TPR100

Mineral insulated cable (MgO). Replaceable insert acc.EN60751. max. measuring range: -200...600oC (depending on configuration).

iTEMP TMT187, Head Transmitter RTD

Temperature transmitter Application: RTD. 2-wire 4-20mA, galvanic isolation. Fault reaction: NAMUR NE 43. Mounting: head form B, DIN EN50446. UL listed.
Successor

Modular RTD and TC assemblies designed for use in industrial applications. Complete with manufactured thermowell produced from pipe or tube material or to be used with on-site thermowell.

Thermometer with RTD or TC insert complete with manufactured thermowell produced from pipe material. Metric version with basic technology for all standard applications.